Want a wiki but don't have the time?
Save FAQs from Slack with one click
Having a pretty wiki would be great, but we all have 100 other priorities. KB Clip lets you instantly turn any conversation into a rough article.
Get started now with our 30-day, unconditional money back guarantee.
Install now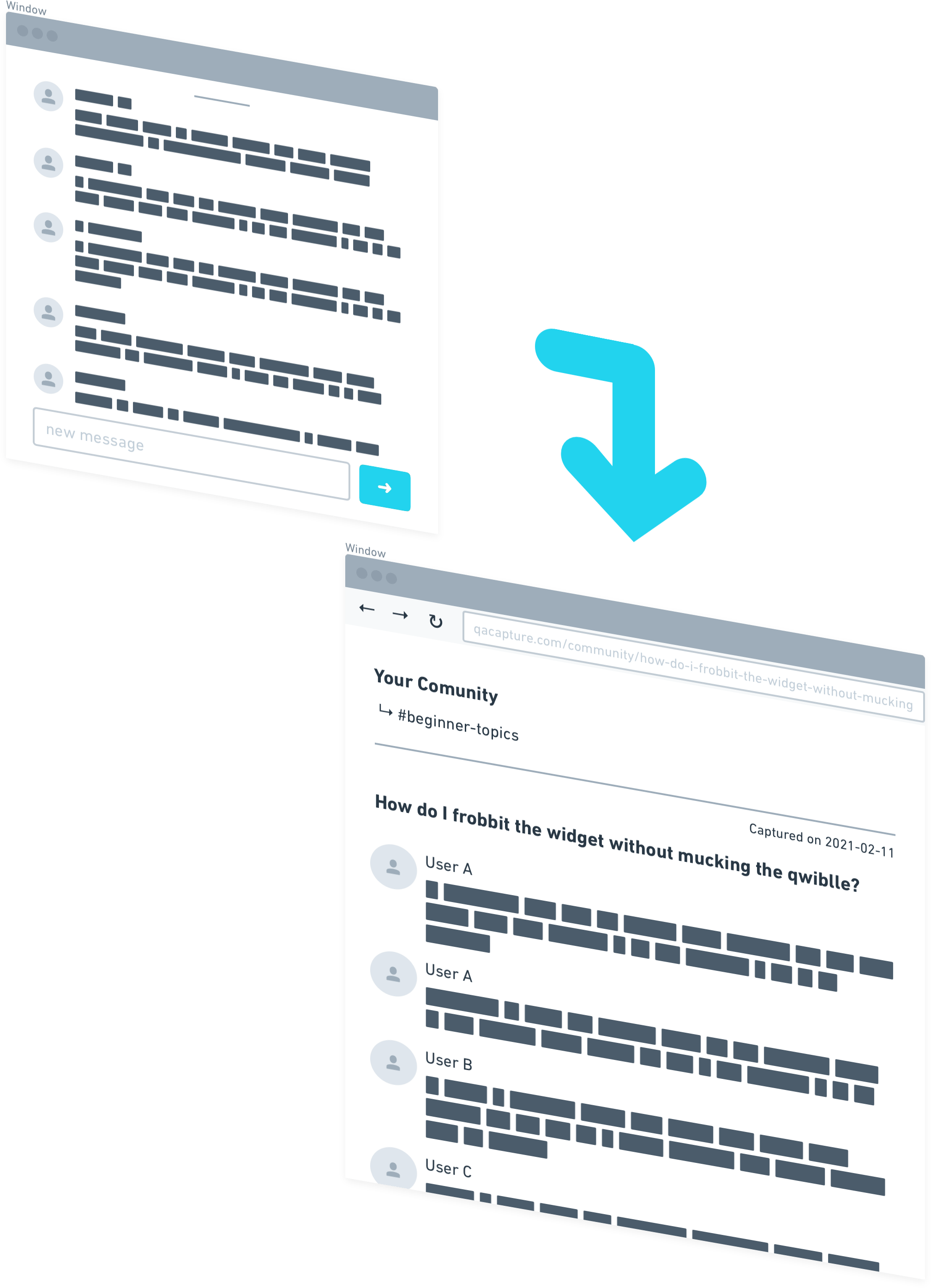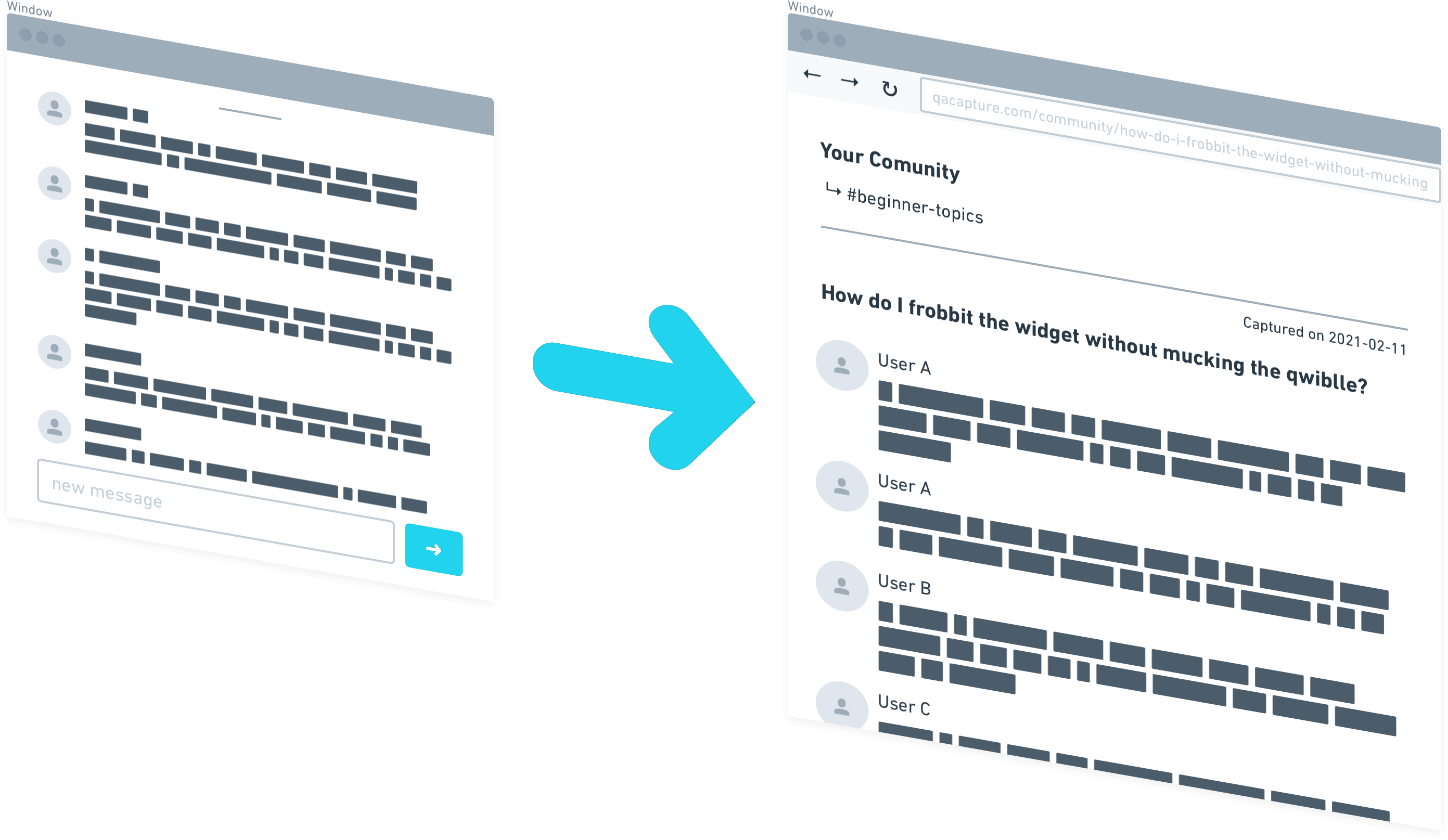 A documentation solution you will actually use
We all have the best intentions for creating a wiki…

All companies have vast amounts of procedures or methods that would be great to have written down.
Sure, we could dedicate a whole bunch of time to sitting down and writing out each one, but the best intentions of mice and men and what have you.

…but let's be realistic, KB Clip will actually get used

KB Clip is here for all the busy devs who are way too busy to write out a separate FAQ entry.
All you need to do is highlight a conversation in Slack and save it to KB Clip, and you're done!
Next time someone asks "how do I connect the whatsit to the doodad" you can just point them to the clipped conversation. And yes, our search function is actually useful.

Your important conversations are organised and searchable

Unlike Slack conversations, this info won't get buried under a mound of day to day chatter.
Clipping a conversation takes seconds. You can also:

Pick which entries you want to include
Add in the relevant tags
Edit the title if necessary
How It Works
Use the KB Clip shortcut to make an FAQ or KB page in seconds.
Use slash commands to quickly search and find your most important information.
Export to popular wiki solutions like Notion.
Clip important information using the KB Clip Slack App
Use our shortcuts and slash commands to quickly turn important information into a searchable Knowledge base or FAQ page.
Native Slack App Integration

Installs in seconds. Usage is familiar and discoverable with slash commands, shortcuts and an app home tab.

Create KB Pages or FAQ entries

Create KB Pages or FAQ entries in seconds.
Select the most relevant messages
Keep your pages clean. We love a good pun, joke or gif, but not every KB page needs them.
Creation is easy

Most KB tools aren't utilized because content creation is too cumbersome. KB Clip makes page creation so easy, you never need to leave Slack.

Private KB Pages

By default, all pages are restricted to members of your Slack community. You can log in with your Slack credentials using "Sign in with Slack". KB Clip never sees your passwords.

Export to your existing KB solution

Coming soon!

Teams and workspaces on the Pro or higher plans will be able to export to an existing KB or wiki.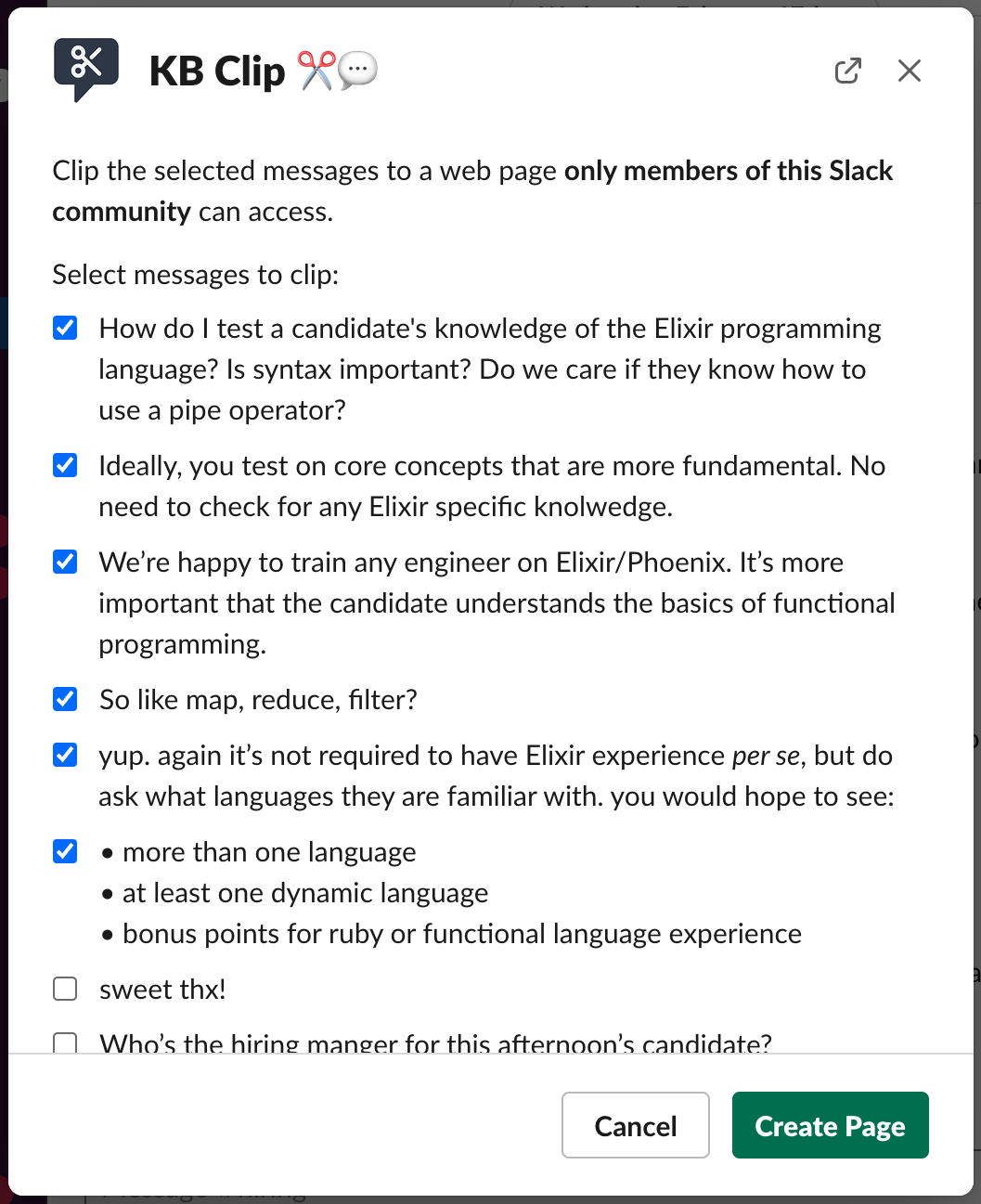 Your information is stored, searchable, editable and organized
Teams and workspaces on the Pro or higher plans will be able to export to an existing KB or wiki solution.
Tags

Organize pages further with tags. Make search more relevant and easier for anyone looking for information.

Favorites and Bookmarks

Keep your favorite or most useful information nearby and easy to access.

Editors Welcome

We make content creation easy, but team members can update information on any page they have access to.

Share only what you want

Want to share a page with the outside world? You can do that. We make it easy to do, but not easy to do on accident. User names are anonymized and individual privacy is maintained.
Rapid Knowledge Capture
Information is generated on chat platforms.
Capture it at the source.
Slack, Teams and other chat platforms are important for communication. Yet in every community, you will see same or similar questions being answered more than once.
Most knowledge base platforms are underutilized. There are not enough information creators. By making content creation easy and nearly instant, you shift the burden from creating content to discovery.
Tags
Conversations are automatically organized by channel, but add tags to categorize for even better discovery.
Search
Search for the information you need without leaving Slack using our slash commands or find and search for information on kbclip.com
History
Information saved in KB Clip sticks around as long as you want it to.
Edit
Don't let your information go stale! Add and update information to any page when you need to.
Favorites
Star your favorite, most useful or most often used conversations and pages.
Subscribe
Any page that you'd like to be kept up to date? Subscribe to change notifications.
Flags
Your members can flag a page as helpful or not. Use this information to notify people who know that a page needs updating or improvements.
Access Control
As part of our pro plans, control access to pages. Make them public or private. Private pages can be further restricted based on a user's permission in Slack.
Pricing plans
All plans feature a 14 day free trial and a 30 day refund policy.
Premium
$59 /month
per 100 users
Clip unlimited conversations

Integrated search via the /kb command
Install
Pro
$129 /month
per 100 users
All Premium Features

Export Conversations to external KB/wikis

Enhanced support and SLAs
Contact Us
Enterprise
$299 /month
per 100 users
All Pro Features

Support for Enterprise Slack workspaces

Fine-grained privacy control

Custom integrations
Contact Us
Are you a free community, academic institution, open source community, or agency? Contact Us to apply for free or discounted plans.
What's a user?
A billable user is any non-bot who has used KB Clip within the Slack environment, logged into the KB Clip website using Slack credentials or is a participant of an active, clipped conversation.
User counts are updated weekly and pro-rated in the event of change.
I'm jazzed for this. My work and personal Slacks could both make heavy use of this, I assume everyone else would, too.
I don't think I realized the power of this until just now.
Join the KB Clip Mailing List
Sign up to get notified about upcoming features, great tips and tricks for Slack and promotional discounts.
Install
Quick, easy installation
Community
Installing the free community plan is a simple process.
Contact Us to apply for a free or discounted community plan.

After approval, tap the Add to Slack button below. You will be redirected to the Slack website to confirm your install and grant KB Clip access to your Slack Workspace. Installation requires Slack admin to complete the process.
Paid Plans
After adding KB Clip to your Slack workspace, go to the billing page and upgrade.
If you haven't yet, Add KB Clip to your Slack workspace

Log in to KB Clip using Sign in with Slack

Go to the User Settings and enter the Billing Portal

Enter your billing information and select a paid plan
30 day refund policy
All paid plans come with a
no questions asked 30 day money back guarantee
.
If you have any questions feel free to contact us.